Hi everyone!
I've been feeling so welcome to the community and you guys gave me so much, I think it's time I give something back.
I'm trying to get my friends to play PSO with me (I got one person already, more to come soon) but obviously most of them don't have their DCs anymore, so the only choice is PSO for PC.
So I set out to setup it on my computer (I had a copy of PSO PC from around 2004) and I wanted to make sure I could make it run in Sylverant. Turns out it was quite easy with the executables available in PSO Palace so that was a great achievement.
The thing is... with these days wide screen monitors, PSO looks horrible, because it sets the monitor resolution to 640x480 and it displays stretched. I'm running Windows 10 which looks even worse because there's a constant bar on top. So my obvious choice was to run it windowed. It so happens that PSO, instead of launching on it's native resolution, seems to try to adapt to your screen size and make it proportional to it, thus getting stretched by wide screen monitors as well. Luckily the borders aren't locked, so you can run around with your mouse and grab the borders and move them until they reach precision, and make it look just right.
But let's agree that it's terribly inconvenient having to do that every time you launch the game. So I decided to write a small program to resize PSO to the correct aspect ratio, and resize the window for me, with pixel perfect precision.
This is how the program looks right after it's

launched, see the strange window size that

looks stretched.
The program allows to select a pixel perfect preset (1x, 2x, and 3x the native 640x480 resolution) or a desired custom resolution.
This is how the game looks on all of it's native resolution glory.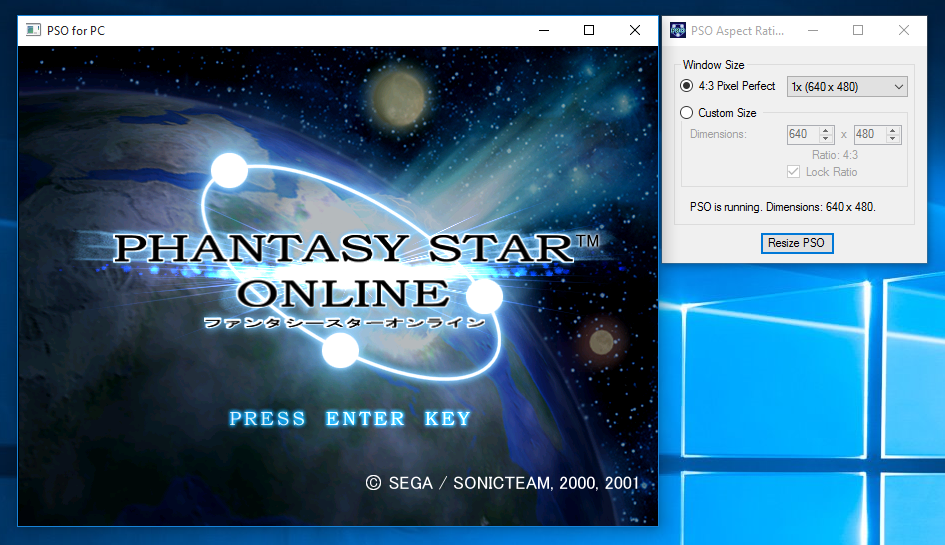 So that's it. For a detailed explanation about how the program works and how to use it there's a Readme included in the compressed file. I hope someone out there using windowed PSO on PC enjoys this program as much as me and my PSO buddies do. With that I think the game experience is more pristine, and it's free of the undesired stretching, for great justice!
You can download it
here
.
I welcome any suggestions and feedback to the program, I'm subscribed to this thread so you can post a reply here or PM me. If anyone would like to host the tool on their site, feel free to do so too.