Avengers: United Battle Force
is a game I am working with OpenBOR engine (something I advice every mugen creator to take a look), a tad based on the Arcade game plus some new stuff.
This game started as a study case from Doom, who worked with me on Bullseye, so he could learn how to code for OpenBOR. Then it turned into a full game. Basically, Doom edits the chars and starts the codes, and I handle all the core codes and some sprite edits.
The idea is to make an Avengers (though some non-avengers chars will appear) based on the old Arcade game, which we loved so much, but won't be a perfect copy.
The title is a working title, and can be changed later.
Features (not everything is avaliable yet):
- 2 players
- Specials and air specials
- Hyper moves (consumes all the powerbar)
- Vehicles
- Traps, plataforms, holes and other beat em up things
- NPC chars
- Unlockable chars
- Alternate routes
- While I am a rookie on OpenBOR coding, I promisse to be a cool game to play
What could be done:
-Weapons system, if I manage to code it well.
Roster (subject to change):
the following are completed ... though perhaps we add or modify something ...

Those characters are in progress ...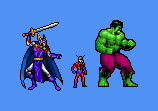 I think also is in progress Iron Fist and Storm...
other who will join later:
- Vision
- Iron Fist
- Black Panther
- Black Widow
- Antman
- Psylocke
- Wolverine
- Hulk
- Colossus
- Nightcrawler
Some which could appear, as a playable or NPC
- Wasp
- Fantomex
and some others
Shots:
Select screen
In game (GUI is a WIP)
More news to come
If you wanna help us with sprites, drops me a line