Have you read the review to 'Evolution'? If so, then you may not be satisfied with the game's lack of entertainment. If you are looking for an RPG with more substance, then read on as I review one of the better RPGs for the Dreamcast-
Grandia II
: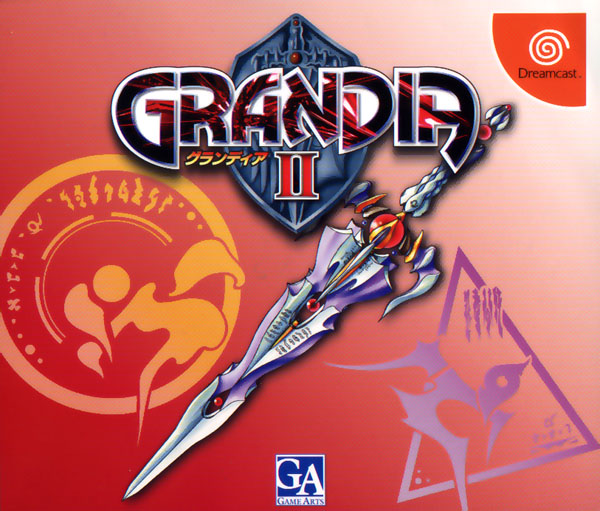 Grandia II
was developed by Game Arts. The game follows the story of Ryudo, a mercenary who sets upon a quest to stop the rebirth of an Evil God. With the help of a songstress, a noble beast, a robot and a prince, they must find the pieces of the enemy and destroy them before they are reassembled. The game itself is quite enjoyable, featuring likable characters, commendable environment designs, a great story and a pleasant battle system.
Story (8 out of 10):
Due to its content, Grandia II's story is compelling, emotional and dark. It can get grim and depressing, and the game does show a few violent scenes. It even touches on the subject of religion, which everyone might not be comfortable with exploring. For those hoping for a happy story, you will perhaps not get it here. What you will get instead is a suspensful and engaging plot that explores religion and human nature.
Gameplay and Controls (8.5 out of 10):
Grandia II is a full 3d RPG. By using the analog stick you can move your character in any direction. The left and right triggers on the Dreamcast controller change the camera angles, offering full 360 degree rotations. Approaching characters throughout the game offers engaging conversation which is a plus, and when it comes to enemy interaction they are clearly visible while walking, so the player has a choice of interacting with them or not. Running into an enemy from behind will give the player "initiative", which offers a distinct advantage within the battle system.
As for the battle system, it is somewhat a mix between real time and turn base. Icons of your characters (as well as your enemies) are placed on a diagram (resembling a race on a straight line). The first icon to reach the point of attack on this line gets to make a move. To elaborate, on the diagram are two points, '
COM
' and '
ACT
'. When your icon reaches 'COM', the battle is paused so that you can input your desired attack. Afterwards, once the icon reaches the 'ACT' point, the attack is carried out. The speed of your icon depends on the attributes of the character, so equipping yourself with the appropriate item is a plus. "Initiative" within the battle system offers your character icons a head start from your enemies, ensuring that you reach the point of attack faster.
The Gameplay is also enhanced by it's surprisingly good voice acting. Through this the characters develop a personality, which we the players are drawn to. For instance, there is a character known as Millenia whose rude remarks and fiesty attitude provides entertainment and charm that'll keep players interested.
As with any RPG, there is dungeon exploration. Grandia II's dungeons however leaves us more, in the sense that they feel like they are lacking something. While there are puzzles to solve, they are often easy to complete and mainly deal with pressing switches to open doors. As a matter of fact, getting lost in a dungeon should not be a problem, as they are constructed in such a way that is easy to retrace your steps. Hence, this aspect of the game is not very challenging. It is also important to add that there are very few minigames and virtually no side-quests, so if you're looking for a break from the main adventure, turn off the dreamcast, have a snack or something until you're ready to power it back on.
Graphics (8 out of 10):
Graphically, this is a beautiful game. Bright colors and lively characters is what you will find here, as well as commendable environment designs. During battles, depending on the special attack you choose, you are treated to either a fully CG rendered sequence, or an anime style animation of that attack. Very pleasing to the eyes indeed. The only drawback is that most of the ingame models do not display a mouthpiece, similar to Krillin in Dragonball Z not having a nose piece.
Sound (9 out of 10):
The voice acting and sound effects add to the experience. Both aspects are done well and add to the game's merits. Additionally, the soundtrack is not to be overlooked. The music fits the game and sets the mood so well that you can't help but feel motivated to play because of the music at times.
So to recap on the pros and cons-
Pros:
1) Wonderful graphics
2) Commendable voice acting
3) Likable characters
4) Intriguing Battle system
5) Engaging Story
Cons
(Subjective):
1) Plot may not be for everyone
2) No lips? How do they speak?
3) No side-quests, so nothing to relieve yourself of the main game when you're looking for something else to occupy the time.
Overall Score:
Grandia II receives an
8.5 out of 10
Hope you enjoyed the review. Feel free to leave comments.
Images taken from various internet sites. Review written by Green Ranger.