So I'm waging war on a disgusting little George Costanza fuck that hangs out with my friends and likes drunk-dialing me while I'm sick.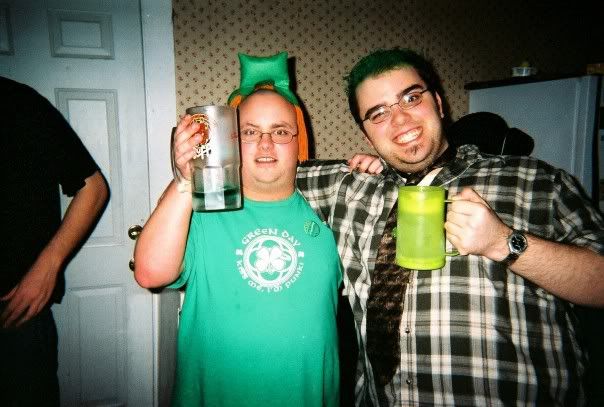 This little fuck here on the left.
I need a few more ideas than what I have already.
Not looking for anything clever or subtle, because the idiot wouldn't get it. Also not looking for anything light-hearted because he needs to get schooled. I'm looking for stuff ranging from the "mildly dickish" to "total fucking dick." However, I don't want to get into the realm of property damage or hospitalization.
Also, hiding spoiled food is out of the question because that would improve the smell of his room. The guy constantly smells like a pile of wet laundry.
So here's what I got
1. Rubbing Nair in his hair when he's passed out
2. Covering the tiles in front of his door in KY Jelly
3. Hammering/Jumping on my floor (he lives in the dorm room directly below me) at odd hours
4. Waking him up at the crack of dawn and rubbing different food products in his face, saying it's "breakfast time."
5. Walling off the door to his room with duct tape and USPS boxes.
6. Sneaking in his room when he has it unlocked and putting random things under his sheets like newspaper, plastic bags, pieces of cardboard, plywood, cheap toys, etc.