Well, who'd have thought... a simple program with barely 20 lines of code to resize the PSO window grew... and grew...
... And now thanks to the amazing support here, it's now a full fledged loaded/patcher capable of allowing online connection to sylverant, patching the fixes and switching the game from fullscreen into a window... all with a clean installation of PSO, no extra tools needed.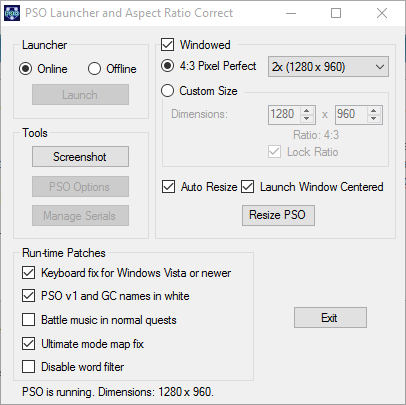 Capture of the program after launching PSO.
Thanks to Tremcaster for the encouragement (I had the chance of meeting him on Altimira while testing the program with a clean PSO for the first time) and suggestions.
And billion thanks to BlueCrab for sharing his loader source code with me. Thanks to that this patcher became done so quickly.
This doesn't do the patching that blocks the mouse from being used, but on the other hand, PSO doesn't read global inputs so switching windows in game is not a problem.
There's a strange bug in Fullscreen mode... but I think it's Windows 10 related. It is described in the readme along with all the other instructions and descriptions of the new features.
I learned a bunch working on this program and hopefully I'll be able to improve and contribute with more stuff in the future.
The download like is
here
. I changed the name of the file so the old URL will only download the resizer that's meant to work with the windowed exe. I haven't made tests using the windowed exe with this launcher but it *should* work fine. This launcher is really meant to work with a clean installation of PSO though. If launching a windowed version of PSO causes any issues, PSO can be launched first and then upon opening the Launcher, the resize tools will still be available to tweak the window size.
Well, that's it for now. Comments, feedbacks, bugs? I'm all ears.