I'm selling off a lot of my old games and systems. Some of it I've had since I was a kid, and some of it is left over from my old game store.
Before I put this stuff up on Kijiji and Craigslist, I thought I'd give you guys first dibs. If any of you guys are interested in something, make me an offer.
Note: I don't believe the R.O.B. works. It's probably only good for parts.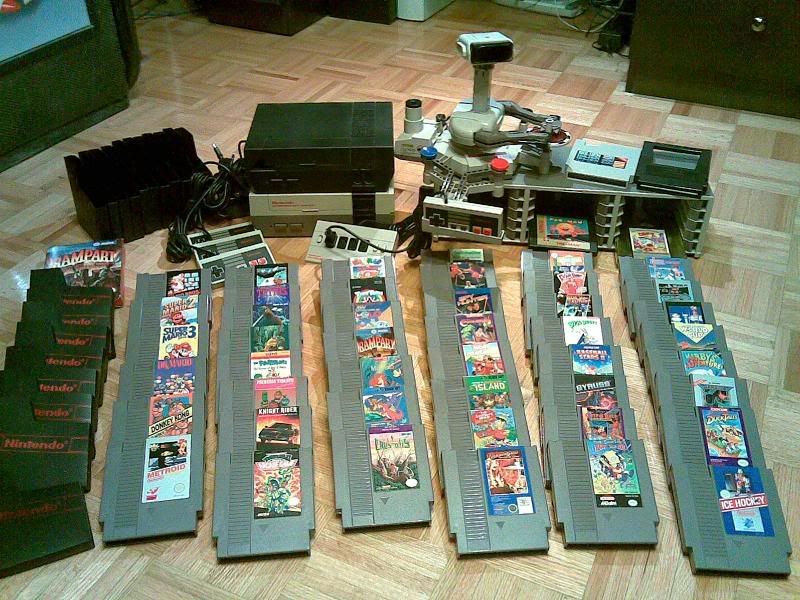 NES Games:
SUPER MARIO BROS. 1
SUPER MARIO BROS. 2
SUPER MARIO BROS. 3
R.B.I. BASEBALL
THE SIMPSON'S: BART VS. THE WORLD
THE SIMPSON'S: BART VS. THE SPACE MUTANTS
DISNEY'S DUCK TALES
DISNEY'S CHIPS 'N DALE RESCUE RANGERS
ADVENTURE ISLAND
ICE HOCKEY
DISNEY'S THE LITTLE MERMAID
MICKEY MOUSECAPADE
LITTLE NEMO THE DREAM MASTER
INDIANA JONES AND THE TEMPLE OF DOOM
CRYSTALIS
KNIGHT RIDER
PRINCESS TOMATO IN THE SALAD KINGDOM
ADVENTURES OF DINO RIKI
GRADIUS
GYRUSS
METROID
SESAME STREET 1 2 3
THE BUGS BUNNY CRAZY CASTLE
WHO FRAMED ROGER RABBIT
BACK TO THE FUTURE
GYROMITE
SPY HUNTER
MIKE TYSON'S PUNCH-OUT!!
NINTENDO WORLD CUP
BASEBALL STARS II
TEENAGE MUTANT NINJA TURTLES II: THE ARCADE GAME
ANTICIPATION
PAC-MAN
THE FANTASTIC ADVENTURES OF DIZZY
TETRIS
KIRBY'S ADVENTURE
GODZILLA
TINY TOON ADVENTURES
DR. MARIO
RAMPART
DONKEY KONG CLASSICS (DONKEY KONG & DONKEY KONG JR.)
THE FLINTSTONES: THE RESCUE OF DINO & HOPPY
KICKLE CUBICLE
ADVENTURES OF LOLO
SUPER PITFALL
SLALOM
RAD RACER