Dreamcast Vent Mod v1
Dreamcasts are said to have a "set lifespan" which makes them overheat and die after a certain period of time. I know of a few people that I met, in person and online, that has had a Dreamcast die on them, one of which said he is "on my third Dreamcast" since his first two died.
I had problems with my Dreamcast nearly overheating. Play for a few hours and my DC would have a lot of heat coming from above the disc drive. I took my Dreamcast apart and looked inside of it to see if I can find anything I can do to help make it run cooler. Then I found this.
In the vent was a piece of metal blocking the airflow! All I did was remove that tab and I played a few hours of Space Channel 5 and NFL 2K1 and it still wasnt nearly as hot as it got when I played 30 minutes of a game when that tab was on.
I kept hearing how, "opening up your Dreamcast will permanantly ruin your console" and that, "you need to have a professional service your Dreamcast for you" but I didnt care, I wanted to fix it without paying a cent.
Here's how to take it out.
Difficulty - 3/10
Just need to open it and tear something out.
Tools needed - Screwdriver(thin), File(to cut/file), Pliers(to speed up cut), Brain(to remember where every screw goes to)
Play a game for about 30 minutes to an hour. Check how hot the area to the right of the lens is.
Check it again after youre done.
------------------
First you just have to open up your Dreamcast. Just gotta find these screws and take them out: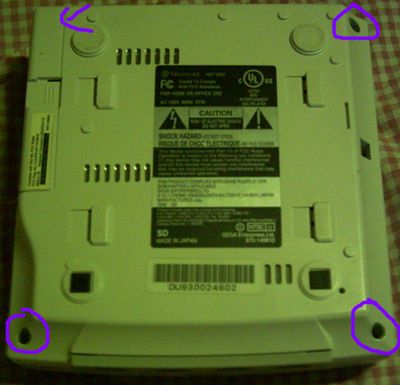 Turn it upright and pull off the top of the disc cover. Dont worry, there is nothing connected to it(or at least on the ones I fixed). Find the two screws that hold the Power Supply down and remove them. Just pull upwards on the Power Supply to remove it.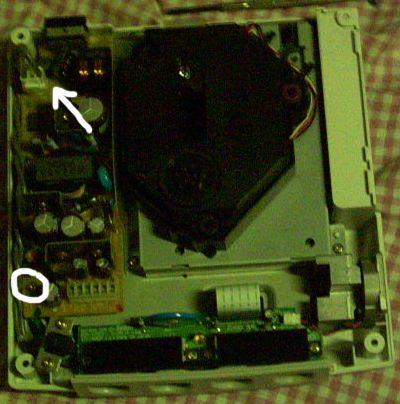 There are three (3) screws holding down the Disc Drive(White). Just remove those and pull upwards. Pull off the ribbon to the Controller Ports and take out the four (4) screws(Purple).
Dont touch the lens of the disc drive. Also dont flip the disc drive upside down while holding only the sides, your lens part will fall out.
The controller ports will have a wire going to the fan. They are really thin so you might not want to risk tearing them off so just hang it off the side of the Dreamcast.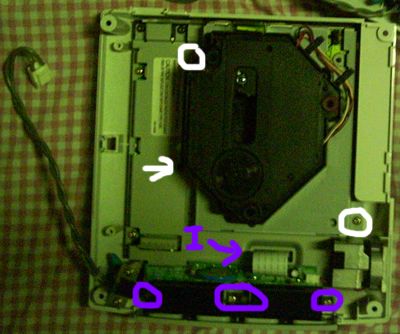 Take out the screws to the big platform that holds everything up. Now take the plastic handle in the middle to pull the platform up and cut off the piece of metal that sticks 90 degrees off of this.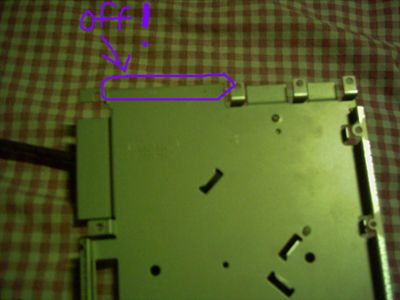 You can file it off for a bit then use the pliers to keep bending it to make it thin out and take the tab off. Use the file to make it so that there are nothing sticking out and that its not sharp.
Now just go backwards to put the whole thing together. On the Power Supply, there should be a white thing that goes to the 4 prongs on the base. Make sure that goes on right. Plug everything together and put on the screws.
Before putting the screws back on for the cover, hold it down a bit and test it out to see if your Dreamcast is still working. If not, you put something on wrong. If its working, then put on the screws and youre done.
Play a game for a bit and check the heat on the right side of the lens(not ON the lens). It shouldnt be heating up as much as it used to. Thats because theres air flowing into the Dreamcast now.
Or in Lamans terms, Just take off the metal peice thats blocking the back vent with a file or anything you can use to take it off with.
If you need extra help, you know how to get to me.