Welcome to DCEmulation!
From DCEmulation
The site is currently under renovation. We have moved to a private-wiki-based system and we all are working hard to present you a renovated DCEmulation. While we still have various tutorials, technical articles, and more that need to be transferred to the wiki, please bear with us as our contributors make the time.
There are currently 356 entries in our wiki--with more on the way.
In the mean time, you may go to the DCEmulation forums for any other information. Our site has been based on the forums for years, so enjoy your stay.
DCS Poll Results: How Many People Beat Last Hope?
Posted by cube_b3 on Mar 10, 2014 at 10:18pm
-
0 Comments


Last year, we held a poll to see how many indie game consumers were actually able to finish Last Hope. We purposely did not differentiate between Last Hope and its update Pink Bullets.

Surprisingly enough, only 20 percent reported they beat the game. Given the hardcore shmup players on the Dreamcast, I was surprised that only 1/5th of the people who bought the game were able to finish it. Conversely, 42 percent, basically 2/5th of the players, said they were unable to finish the game.

In addition to the "Yes" and "No" options, I added a "Did you buy the game to support the scene?" option, and it turns out that 2/5th of the people did not plan on beating the game. I have to say that is a little sad; no one should invest their hard-earned money on something they don't really plan on utilizing. I suppose the rationalization for it is that if you support the indie developers, they will continue to support the Dreamcast. However, if you are not going to play their games then what is the point of them making games for the system?

Last-Hope-Pink-Bullets_Dreamcast_Logo

Fortunately, investment in NG:Dev.Team has paid off as their new games are much more playable and more importantly enjoyable.

I personally purchased Last Hope last year via the Beginners Bundle with FastStriker and GunLord. While I was unable to survive beyond the fourth stage in Last Hope, I successfully beat Fast Striker multiple times – twice on Beginner mode and once on Normal mode. One day, I will probably beat the game on Hard Mode.

I still haven't gotten around to playing GunLord, especially since last year was so busy!

By the time you read this, the next poll will be live.
Adventures in Game Development Chapter 23
Posted by GyroVorbis on Mar 10, 2014 at 8:57pm
-
0 Comments
The latest webisode in the AiGD series has been posted, chronicling quite a bit of exciting new development from the Elysian Shadows project.
Description wrote:
Team ES is back with level design, pixel art, music, dynamic lights, particles, and spell effects! We have all been extremely busy with the project over the last few weeks, and we're happy to bring an update from all ends of the spectrum: art, code, and music.
Things are getting very serious for us as we work towards our summer Kickstarter campaign. We have several surprises up our sleeves for you guys in the coming weeks, and we very much appreciate all of the community support and publicity we have been receiving during these critical times. Please help spread the word!
http://facebook.com/elysianshadows
http://twitter.com/elysian_shadows
http://www.slidedb.com/games/elysian-shadows
http://elysianshadows.com
Watch the YouTube video:
Service Games - New KickStarter
Posted by cube_b3 on Mar 05, 2014 at 1:03am
-
3 Comments
We first reported about Sega history book a couple of months back, by the time we got around to reporting it the hardcover version of the book had already sold out.
Fortunately, our good friend and co-author David Munoz has decided to take this project to the next level. He is currently trying to secure funding for an audio book and has started another Kickstarter campaign giving everyone who missed their window last time to get another chance in ordering the definitive version of the book in hardcover.
Munoz is seeking to raise $6,000, and as of the time of this writing has raised more than $2,700 with 30 days still left to go.
In addition to the book, he has other cool things that you can pledge for such as this awesome T-Shirt. I am sure Service Game fans have many shirts of their favorite system, but who can say they have a shirt with all the consoles on it as well as an Arcade Machine?
https://www.kickstarter.com/projects/15 ... -hardcover
Also note: The project has some fantastic stretch goals such as free dust jacket and book marks. Just imagine how cool you would look if you had a Sega Arcade Unit as a book mark. Every boy in class would be envious of you and every girl would want to be with you!
Video Comparison Dux Vs Dux 1.5 Vs Redux: Dark Matters
Posted by cube_b3 on Mar 03, 2014 at 2:12pm
-
0 Comments
Hucast has bewildered the community by releasing their debut title three times over the last 5 years, and we have been covering it extensively ever since the game was revived on Kickstarter in summer 2012.
In order to help the community decide which version of the game is the one for you we wanted to do a video show casing all three versions, unfortunately it appears my copy is still in transit (or lost). I reached out to a friend of ours Adam Koralik from FigureItOut Productions to do the video instead (he has better equipment anyways
).
Note: Dux 1.0 has a scoring bug and Redux: Dark Matters has a couple of reported game crashing bugs not covered in the video. That said, check out the video and decide for yourself!
2013 in Review III: The ones that weren't meant to be
Posted by cube_b3 on Feb 27, 2014 at 9:27pm
-
0 Comments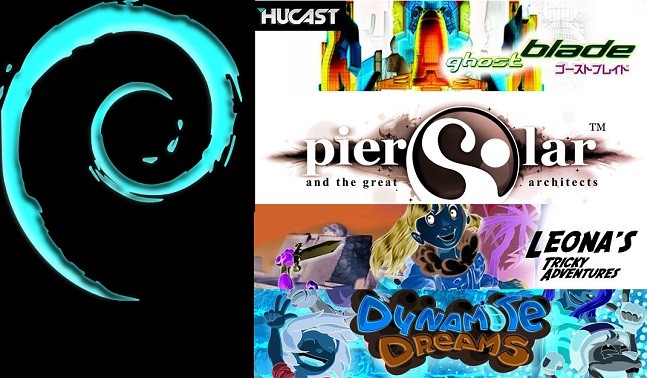 We started this feature of by discussing the games that made it out in 2013, then we looked at 4 games that missed their release dates and now this week we look at the remaining 4. Another important thing to note about Part 3, with the exception of Pier Solar, DCS was positive none of these games would actually release last year or any time in the near future; hence this weeks list is arranged alphabetically rather than in order of release.

Read Full Feature:
http://www.dreamcast-scene.com/news/dcs ... ant-to-be/
Neo XYX Out Now
Posted by cube_b3 on Feb 24, 2014 at 2:36pm
-
3 Comments
NG:Dev.Team's latest Sh'mup has finally hit retailers today. What's this you tell me? The game came out on February 17th 2013. Why are we reporting the game just came out today? Well, the game just hit retailers today. We are reporting that Play-Asia now has it in stock for 44.95$ and 69.95$ respectively for Regular and Limited Edition, both versions will ship for free.
NG:Dev.Team also hit a little snag with the Collector and Limited Edition pre-orders as the pressing facility pressed a hundred units less. The Regular Edition of the game sold out fairly quickly at NG Dev Direct hence we thought it best to wait till retailer had it in stock and won't have it again in stock until March.
If you have been completely out of the news are out of the loop here is the trailer of the game:
PRESS RELEASE
NEO XYX for Dreamcast™ is will be released on 17th February. A Toaplan style 2D Shoot 'Em Up for
Dreamcast™.
For Immediate Release
Hannover – February 12th,2014
NG:DEV.TEAM, Germany based game developer announces that NEO XYX for Sega Dreamcast™ will be released on 17th February.
About NEO XYX
NEO XYX is a Toaplan style 2D arcade shooting game with emphasis on scoring. The game was originally developed
for the NEO·GEO™ arcade system. NEO XYX features six stages of excellent 2D arcade game play with over 40
unique enemy types and huge fully animated pixel art bosses.
Key Features
Game:
6 arcade style designed stages
Beautiful Toaplan style / Japanese 90tis arcade styled pixel art
40+ fully animated pixel art enemies
11+ huge fully animated pixel art boss enemies
60 fps
Medal collecting score system
Dynamic difficulty rank system which kicks in for experienced players
Accessories (Dreamcast™) :
VMU
VGA
Original pad
Arcade stick
The game is released in three versions:
Collector Edition [CE] (limited to 300 units worldwide)
Beautiful DVD slipcase with LE and RE. A T-shirt, two postcards and 4 stickers
Limited Edition [LE] (limited to 1000 units worldwide)
Game + Soundtrack OST CD
Regular Edition [RE]
About NG:DEV.TEAM
NG:DEV.TEAM (URL:
http://www.ngdevteam.com
) was founded by the brothers Timm Hellwig and René Hellwig
We are a 2D game developer who is specialized in arcade style games. Since 2010 our games are installed in Japanese
Arcade Centers.
We are developing commercial video games on various arcade platforms like NEO·GEO™, Dreamcast, iOS, 3DS and
WiiU™.
Milestones
2001 NG:DEV.TEAM has been founded
2005 Announcement of our debut game Last Hope for NEO·GEO
2006 Release of Last Hope for NEO·GEO AES
2007 Release of Last Hope Dreamcast and NEO·GEO CD
2008 Last Hope Dreamcast becomes the best sold indie title on the system
2009 Release of Last Hope: Pink Bullets
2010 Release of Fast Striker NEO·GEO MVS for home market and Japanese arcade
2010 Release of Fast Striker 1.5 Dreamcast
2011 Release of Fast Striker iOS
2012 Release of Gunlord for NEOGEO MVS / AES and Dreamcast
2013 Release of NEO XYX for NEOGEO MVS (arcade)
2014 Release of NEO XYX for Dreamcast
Trademark: NEO·GEO™ is a registered trademark of SNK PLAYMORE Corporation. Our NEO·GEO™ software is not officially licensed, designed, manufactured, distributed or endorsed by SNK/Playmore corp. of Japan. Dreamcast™ is a registered trademark of SEGA Corporation. Our Dreamcast™ software is not officially licensed, designed, manufactured, distributed or endorsed by SEGA Corporation. All other used brand names and trademarks mentioned are trademarks of their respective owners.
Copyrights: NEO XYX copyright © NG:DEV.TEAM
Note: The whole thing about Last Hope being the best Indie title is probably restricted to 2008, a year in which it was the only title released. Overall it is impossible to assert which is the best indie game because most publishers don't release sales figures.
2013 in Review Part II: The Ones That Didn't Escape
Posted by cube_b3 on Feb 18, 2014 at 8:27pm
-
1 Comments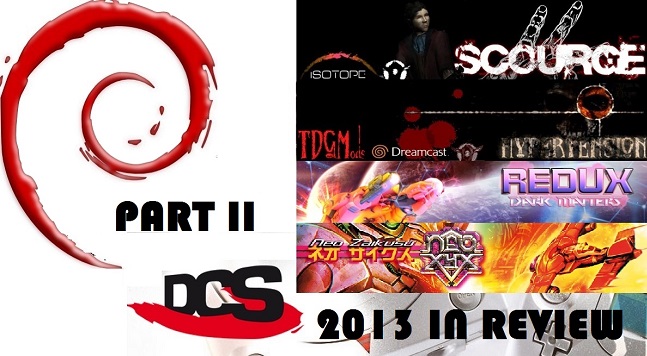 Last week, we looked at all the games that came out in 2013. This week, we look at all the games that were slated for 2013, but, in the end, for one reason or another, failed to make it out last year.

In Part 2 we covered Redux: Dark Matters, Neo XYX, Hypertension & Scourge.

Full Article Here:
http://www.dreamcast-scene.com/news/dcs ... nt-escape/
DCS 2013 In Review Part 1: The Ones That Escaped
Posted by cube_b3 on Feb 10, 2014 at 6:59pm
-
3 Comments
There's a famous quote by Bruce Campbell, "The weird thing about indies is that they are not released – they escape". What he said is ambiguous but what he clearly meant was that indie projects take a long time to complete.
I remember almost a decade ago at Midwest Gaming Classic 2006 when Dan Loosen of Goat Store Publishing announced 12 new commercial indie titles. To date, only one of the 12 titles have seen the light of day, with many being cancelled, though some, like Age of the Beast, are still actively in development.
So if you are a seasoned indie gamer, you might already know that release dates mean nothing. Though delays are more understandable with indie developers, mainly because their work on the project is usually carried out in their spare time as most developers have full-time jobs.
With the introduction out of the way, 2013 started off as a very promising year for the Dreamcast. In the above video, GagaMan states that we had seven games in development, though I will actually be discussing 10 games. Let's start with the ones that escaped - Dux 1.5 and Sturmwind.
Read the full post at
http://www.dreamcast-scene.com/news/dcs ... t-escaped/
With Pictures
or
http://www.seganerds.com/2014/02/10/dre ... in-review/
With Video
Adventures in Game Development Chapter 22 [Elysian Shadows]
Posted by GyroVorbis on Feb 09, 2014 at 3:18am
-
5 Comments
Team Elysian Shadows is back with Adventures in Game Development Chapter 22!
The video picks up where Chapter 21 left off, with 40 minutes of behind-the-scenes development footage. Topics covered include dynamic lighting, shadows, pathfinding, animations, battle system, pixel art, and level design. As with the style of the rest of the series, the serious development segments are intertwined with plenty of adult humor and their trade-marked dysfunctional antics.
Omni-directional dynamic point lights
Bump mapping, dynamic lighting, and a 3D perspective
A message from the developers:
ES Team wrote:
Since Chapter 22 has really been a continuation of Chapter 21, and we are still trying to complete the intense graphical R&D we had undertaken previously, we have still not gotten a chance to bring the Dreamcast build up to speed... Despite this fact, Falco has been doing lots of research and planning for exactly how we will attempt to pull some of these lighting effects off on the platform.

Our long-time friend and partner in crime, Tvspelsfreak, is developing an all-in one texture tool to integrate with ESTk, our toolkit, to automatically generate optimized paletted or compressed textures to minimize our VRAM usage for the Dreamcast. This will give us more room to play with some of the hardware effects we have been itching to get our hands on... Specifically dat dot3 bumpmapping.
REDUX: Dark Matters released!
Posted by Christuserloeser on Jan 30, 2014 at 3:16am
-
5 Comments
via
https://twitter.com/hucastgames/status/ ... 4202754048
(best viewed in 720p)
Redux: Dark Matters is the up and coming space shooting game with fresh scoring elements and an incredible soundtrack composed by Andre Neuman featuring legendary video game composer Chris Huelsbeck (Turrican, R-Type). Featuring Highres visuals with in-space, robot blasting, shooting game action. Developed by René Hellwig from NG:DEV.TEAM (GunLord, Fast Striker, Last Hope and DUX) and programmed by KTX Software Development. The game was now released, and is now shipping. Get your copy now at
http://www.hucast.com
Trailer:
http://www.youtube.com/watch?v=fofLU3UBbRA
[in 720p]
Watch it now to get an first look at the new Dark Planet Stage!!



Game Features:



Arcade Style Visuals
7 Stages with Huge Boss Enemies
Tons of Weapons
Arcade Gameplay and Addictive Scoring System
Awesome Soundtrack Composed by Andre Neumann



Supported Devices:



VGA Box, Arcade Stick, VMU support
For reviews and news on the game visit
https://twitter.com/hucastgames/
and
https://www.facebook.com/hucastgames